Last episode concluded a three-part story arc, where Korrina, the Shalour City Gym Leader, met up with Ash, Serena, Bonnie, and Clemont as they traveled through the Kalos region, and temporarily joined them as she sought to discover the secret to mega evolving her Lucario. Although Korrina succeeded in obtaining a Mega Lucario, she was unable to control it, and worst of all she interrupted her grandfather Gurkinn's weekend getaway with his secret gay lover. Irritated, he ordered Korrina to start a new journey to Pomace Mountain, where she can find a mega evolution master. It is here that we rejoin our heroes on their adventure through Kalos.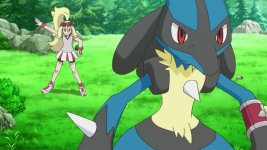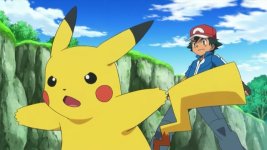 Ash and Korrina are engaged in yet another Pikachu versus Lucario battle. (Hmm, I wonder which Pokemon they're gonna use in their inevitable gym match?) Pikachu wisely escapes Lucario's attempts to "bone" the small electric mouse, and Ash orders an Iron Tail attack, but Lucario counters with an unprompted Power-Up Punch. Korrina is initially excited about her Pokemon's intuitive battle smarts, but then she remembers that attacking without orders is one of the reasons that her grandfather sent her on a journey to Pomace Mountain in the first place (but primarily it was to get her to leave him and McGinty alone). This particular Pokemon battle will have to end in a draw, however, because Bonnie announces one of the few things that can make Ash momentarily forget about cockfighting – lunch time!
As our protagonist busily noms on a sandwich, (4Kids would be so happy there are no longer any rice balls to edit out of the show!) he makes the audacious claim that Clemont is "the best chef in the whole world!"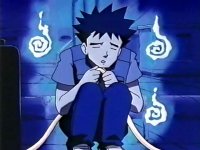 Why must you make Brock cry, Ash?
Our hero's temporary inability to speak allows Korrina to fill us in on Gurkinn's strict training regimen for her and her Riolu. The time she spent at her grandfather's gym also allowed her to witness some strange and exotic sights – and aside from all of the super-fit "single" males working out, she once encountered a trainer with a Mega Ampharos! (which is apparently looks just like a regular old Ampharos in a powdered wig)
This news captures the excitement of Ash, who seems to have forgotten the negative connotations he should have for the Johto region and all of its Pokemon, and it also piques the interest of everyone's favorite villains – Team Rocket! Our beautiful baddies are never afraid of breaking down the fourth wall, and James chooses to do so today, noting that Mega Ampharos is a "nice plot development!" Meowth is still hoping to find some Meowthite to mega evolve itself, but for the time being, Team Rocket settles for stealing Korrina's Lucario and Lucarionite for the Boss.
The twerps arrive at a nearby cave and when they come to a fork in the tunnel, little Becky Thatcher Korrina stupidly declares that "If we trust our instincts we'll be fine!" and pushes on deeper into the cave. (Look out for Injun Joe!) Meanwhile, Team Rocket have apparently played Pokemon Red and Blue because they correctly reason that the best way to trap a Pokemon trainer inside a cave is to awaken the Zubat.
However, Team Rocket seem to have stumbled into the one grotto in the whole Pokemon world devoid of the annoying bloodsucking bats, but luckily for them, the Who's That Pokemon? du jour is here to save the day.
Noibat – the Sound Wave Pokemon – is certainly less threatening looking than its batty Mt. Moon cousins, what with its giant Dumbo ears, but it does have an imposing Dragon typing. James orders Inkay to rile the Noibat up with a Psybeam, but this course of action backfires as the angry bats begin unleashing their Supersonics on Team Rocket. But once the Noibat have been awakened from their slumber, they end up doing as Jessie intended by swarming after the twerps. For some perverted reason the show's animators have a recurring fetish of Serena getting humped in the face by Pokemon, because this happens for the second time in seven episodes. At the same time, another Noibat decides to make Clemont his bitch and gives it to the John Denver lookalike from behind.
Everyone runs out of the cave in terror, but the gang gets separated and Lucario ends up with Ash, Bonnie, and Serena, while Pikachu is with Clemont and Korrina. (Let the AmourShipping and NeoGymShipping begin!) Clemont catches on to the possibilities of his current situation right away, as he advises Korrina that she "really should get some rest." (i.e. he thinks they should hit the sack…)
But while Clemont is sneakily trying slide closer to his vulnerable fellow gym leader, her Pokemon is busy moodily training on a rock by itself in the moonlight – much as Ash's Treecko/Grovyle/Sceptile once would have.
The next morning, Clemont awakens with a newfound spring in his step (attaboy!), but before he and Korrina can decamp to an awkward post-coital breakfast date, Team Rocket appears on the scene and challenges the two gym leaders to a fight. Of course Team Rocket routinely loses their battles with the twerps, so what makes them think they can defeat an Ash-less Pikachu, Clemont, and Korrina with her access to mega evolution? Simple, Team Rocket will counter with their access to mecha evolution!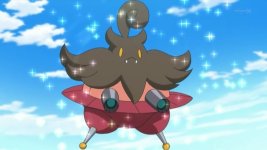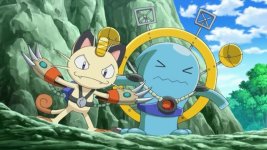 Clemont takes center stage to protect his new woman, but his Bunnelby proves ineffective against the power of mecha-evolved Inkay. Chespin also falls short against the combination of Meowth's mecha Fury Swipes and Pumpkaboo's mecha Shadow Ball. Korrina co-opts Ash's Pikachu and orders the show's star to blast Team Rocket away with its patented Thunder Bolt, but Wobbuffet has an answer with mecha Mirror Coat. All hope seems lost for Pikachu and the NeoGymShippers, as the jealous inventor Clemont seems to have been beaten at his own game. But Team Rocket's well-laid plans are foiled by the twerp's lamest Pokemon – Fletchling. The Tiny Robin Pokemon returns to Ash, Serena, Bonnie, and Lucario with its scouting report and they rush off to join Clemont and Korrina.
Meowth is just about to give Korrina some Joker-esque scars with his claws when Lucario jumps in the way and smacks the Scratch Cat with its elongated hardened bone.
As Ash and the rest of the gang arrive on the scene, James takes the opportunity to declare that "we're not the Team Rocket of days gone by!" (That's for damn sure. For one thing, you no longer sound like Snagglepuss. Also, why don't you cross dress anymore? It's okay to be gay James! Stop hiding the real you!) Korrina orders a mega evolution, and Mega Lucario starts boning everything in sight, but it gets all cray cray again, and turns on the twerps.
Korrina decides to try and calm her enraged Pokemon down, and she manages to reach Mega Lucario through the haze of its aura, and just in time too – she was just about to get boned in the face.
Pokemon and trainer have a sickeningly touching moment, but thankfully Jessie ruins it by shouting, "we didn't sign up for this mega mushiness!" She will have to eat these words, however, as Mega Lucario tees Team Rocket up and sends them blasting off again, before collapsing to the ground in exhaustion and devolving – bringing another episode of Pokemon to a close.
Final thoughts – Team Rocket stole the show as usual with their antics with the Noibat and their puntastic "mecha evolution." Unfortunately, Team Rocket alone cannot make up for a bad plot, and this whole storyline about Korrina wanting to mega evolve her Lucario and subsequently not being able to control it is getting old. I don't have a problem with Korrina traveling with Ash and company, but she needs to hurry up and get this arc over with so that the regular stars can step back into the spotlight.